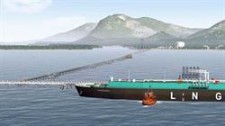 Online, July 22, 2015 (Newswire.com) - VANCOUVER, BC - Highbank Resources Ltd. (the "Company"), (TSX VENTURE: HBK) (FRANKFURT: V7O)
Victor N. Bryant, CEO/President comments:
"On Tuesday, July 21, 2015 at 5:40 pm the Government of British Columbia enacted Bill 30 - 'Liquefied Natural Gas Project Agreements Act'. The bill has now received Royal Assent, ow.ly/PV6Lk. On behalf of the Board of Directors and myself we commend B.C. Premier Christy Clark; B.C. Natural Gas Development Minister, Rich Coleman; and B.C. Finance Minister, Mike de Jong; on a fabulous truly historic effort in enabling British Columbia's, LNG industry."
In the News:
B.C. Premier, Christy Clark, said: "Liquefied natural gas represents an extraordinary opportunity for people throughout the province […] This legislation sets the stage for building a clean, competitive new industry that gives British Columbians a fair share of the benefits -- thousands of jobs, new connections for small and medium businesses, and new revenue to benefit B.C. for years to come. The bill should clear the way for the 36-billion- dollar Pacific Northwest LNG project at Port Edward's Lelu Island, "and for all that there is yet to do, we're well on our way! We're not there yet, but let's celebrate -- let's celebrate this milestone in British Columbia's history."
B.C.'s Finance Minister, Michael de Jong, said: "British Columbians own this resource and we have ensured a fair return for current and future generations who will benefit significantly […] LNG project proposals are the largest private sector investments the province has ever seen. With this legislation we have provided assurance for those seeking to make investments that the tax and royalty structure they operate under will be stable."
"LNG is a generational opportunity that is already creating jobs and training opportunities, and promises new revenue for British Columbians," said Natural Gas Development Minister Rich Coleman. "We are creating a better future and a better British Columbia for our children and grandchildren. That's something we can all be proud of."
Petronas issues Press release July 23, 2015 ow.ly/Q0qfX
"On Tuesday July 21, 2015 the government of British Columbia, announced the approval of Bill 30 - The Liquefied Natural Gas Project Agreements Act, satisfying one of the conditions of the Pacific NorthWest LNG - Final Investment Decision that was announced last month. The successful passage of our Project
Development Agreement in the B.C. Legislature brings us one step closer to building Canada's first world-scale LNG Facility. The remaining condition of our Final Investment Decision, environmental approval from the Government of Canada, is being worked on diligently with First Nations, stakeholders and government representatives."
Victor N. Bryant further comments: "The passing of Bill 30 will protect Pacific Northwest LNG from tax increases over 25 years, in the process creating around 4,500 jobs and bringing in revenues of approximately $9 billion."
Other
Highbank is continuing development and expansion of the SPN site for the extraction, production and stockpiling of aggregate for future sales. Highbank is continuing its efforts to secure long-term contracts for its aggregate products.
On behalf of the Board of Directors of HIGHBANK RESOURCES LTD.
"Victor N. Bryant"
Victor N. Bryant
CEO/President
Neither the TSX Venture Exchange nor its Regulation Services Provider (as that term is defined in the policies of the TSX Venture Exchange) accepts responsibility for the adequacy or accuracy of this release.
This news release may contain forward-looking statements based on assumptions and judgments of management regarding future events or results. Forward-looking statements are projections of events, revenues, income, future economic performance or management's plan and objective for future operations and include, without limitation, statements with respect to the anticipated production from the Swamp Point North Aggregate Project, the realization of mineral estimates, success of mining operations, the timing and amount of estimated future production, title disputes or claims, environmental risks, limitations on insurance coverage, current and anticipated purchase negotiations and arrangements, requirements for additional capital; and government regulation of mining operations. In some cases, you can identify forward-looking statements by the use of terminology such as "may", "should", "expects", "plans", "anticipates", "believes", "estimates", "predicts", "potential" or "continue" or the negative of these terms or other comparable terminology. By their very nature forward-looking statements involve known and unknown risks, uncertainties and other factors which may cause the actual results, performance or achievements of the Company to be materially different from any future results, performance or achievements expressed or implied by the forward-looking statements. Such factors, including: fluctuations in worldwide prices and demand for aggregates; changes in project parameters as plans continue to be refined; possible variations in grade and or recovery rates; accidents, labour disputes as well as those factors detailed from time to time in the Company's interim and annual financial statements and management's discussion and analysis of those statements, are filed and available for review on SEDAR at www.sedar.com.
Image Available: www.marketwire.com/library/MwGo/2015/7/23/11G048564/Images/1-1436101698127.jpg
Image Available: www.marketwire.com/library/MwGo/2015/7/23/11G048564/Images/2-463863115938.jpg
Image Available: www.marketwire.com/library/MwGo/2015/7/23/11G048564/Images/3-1111648985279.jpg
Source URL: http://www.marketwired.com/mw/release.do?id=2041497&sourceType=3
Share: